Description
Backstory
The John Chair is designed in Estonia by a well known Estonian designer Toivo Raidments. Being inspired by a sailor called John, who lost his life crossing the Baltic Sea, Toivo created the John Chair for a marine restaurant in Finland, with the use of materials associated to the sea.
What is it made of?
– Natural solid wood – birch
– Coloured steel tube
– Weave chair seat
It doesn't contain any chemical flame retardants.
Dimensions
Chair: 48 x 50 x 78 cm
Package: 10 x 48 x 46 cm
Weight: 4.7 kg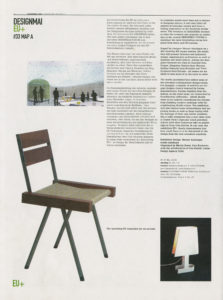 FEATURED AT DESIGN FESTIVAL
Chair JOHN was presented in Berlin International Design Festival and featured in it's magazine Designmai on 2004. Since then, the chair has been successfully used in private and public spaces.
BENEFITS OF NATURAL FURNITURE
Responsibly produced wood is renewable. Forests will regrow to provide a wide range of other benefits such as further carbon storage, oxygen generation. Natural wooden furniture has real and measurable health benefits, because wooden products have a unique ability to store carbon. n storage, oxygen generation